Last November, we took an important step forward in our quest for more effective and scalable ways to increase our customers' observability and access to our platform's data and analytics. To that end, we launched our GraphQL API, which gives users access to the same datasets we use internally, allowing them to create custom views.
The launch of the Azion Grafana plugin marks the next step in this journey. It combines the versatility of Azion's Edge Computing Platform with the analytical capabilities of Grafana to bring more flexibility, transparency, and efficiency to your business by providing real-time monitoring, with deep detailing of the performance, availability, and security of your application through the analysis of raw and aggregated data.
This new plugin makes it easy for teams to collaborate on projects and share information using Grafana's powerful tools to create customized and strategic charts and visualizations for your business, improving communication and productivity.
What does the Azion Grafana plugin offer?
With the Azion Grafana plugin installed, Grafana users can access the "Data Transferred" dashboard, with the same data already available in our Real-Time Metrics, but integrated into the tool you already use.
This includes Edge Caching, Edge Offload, Saved Data, Missed Data, Total Bandwidth Usage, Bandwidth Offloaded, Saved Bandwidth, and Missed Bandwidth panels. Besides that, by using our GraphQL API you can create your own charts and graphs.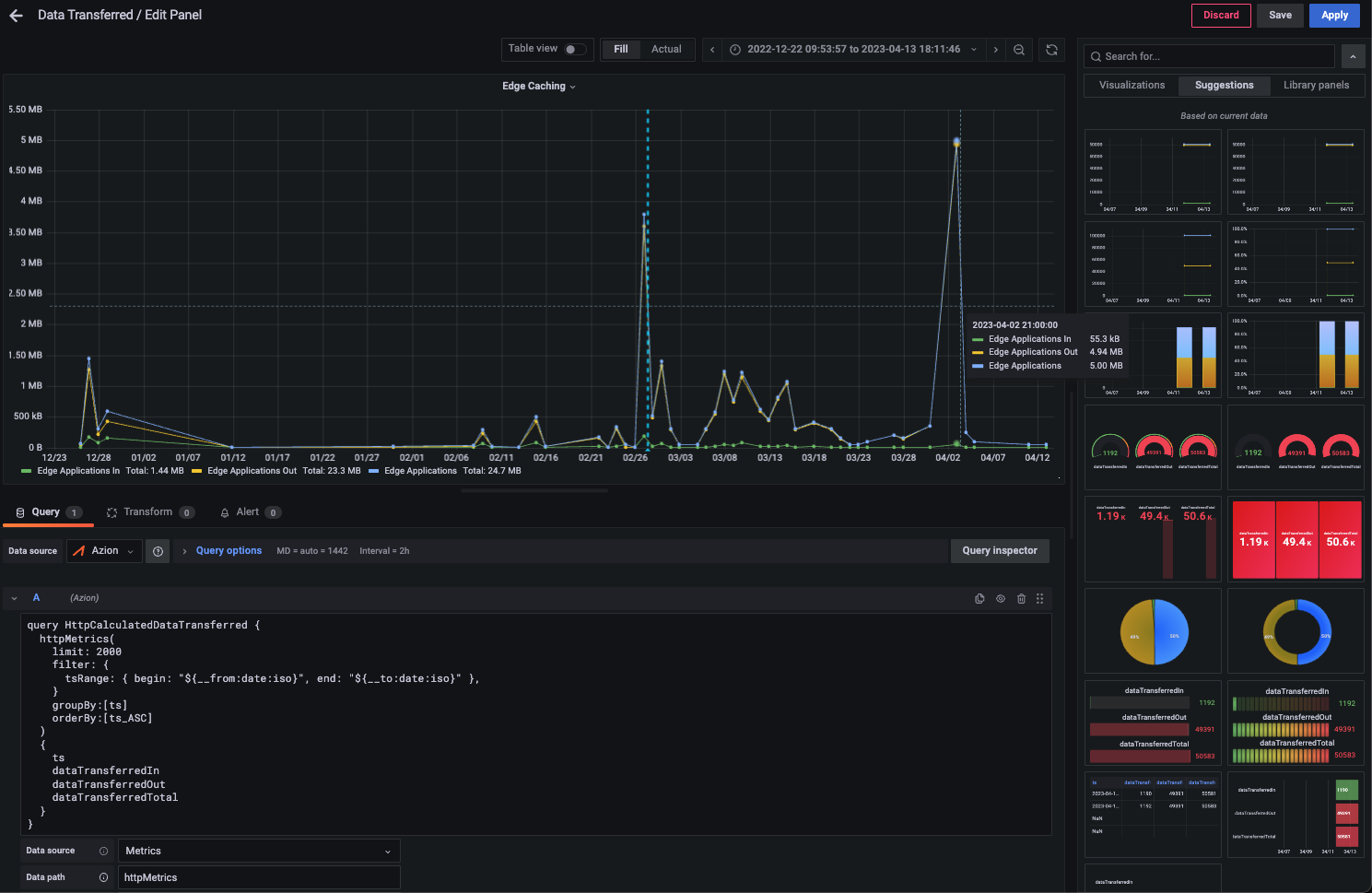 Example of a panel in Grafana. Image: Azion Technologies
How to use the Azion Grafana plugin?
Check our documentation for installation instructions of the Azion Grafana plugin, as well as information on how to use the preconfigured dashboard and how to customize a dashboard.
Conclusion
The Azion Grafana plugin is a powerful observability tool that can offer a holistic view of your infrastructure at the Edge, allowing you to quickly identify unusual behavior, and its causes, helping you prevent and resolve incidents.
Create a free account and experience for yourself how Azion's Edge Computing Platform can optimize the observability of your applications, or talk to our experts to know more.