Do you find getting security certificates to protect your websites time-consuming and sometimes complicated? Now you can easily and quickly do it, with no bureaucracy and at no cost at Azion's Edge Computing Platform—in a few minutes, you get a reliable and free TLS certificate issued by Let's Encrypt.
What Is Let's Encrypt?
Let's Encrypt is a globally recognized non-profit certificate authority that enables individuals and businesses to obtain, renew, and manage TLS certificates for free.
Why Get an TLS Certificate From Let's Encrypt at Azion? 
It's simple: now Azion generates, renews, and applies the certificate on your web server so you can focus on what you need—build and run your applications. 
This is possible with our built-in solution, designed to provide a better experience for our users, in a much simpler way than we did before.
Besides having a free certificate authority option, you no longer need to manage certificates in another external application and manually insert them into the Azion platform, nor worry about complex configurations, domain authentication, expiration date, and the cost of certificates. 
With this solution, you get:
Free certificate: unlike other TLS certificates, Let's Encrypt services are free, which is ideal for developers with limited budgets.

Security and reliability: The Let's Encrypt certificate is widely recognized and accepted by major browsers, guaranteeing a secure connection between the server and the client.

Automatic Renewal: The automatic renewal process happens every 90 days, so you don't have to worry about manually renewing your certificate. This saves time and ensures that your website is always protected.
How Does Let's Encrypt Work at Azion?
When you create a domain with Azion, you can choose to get an TLS certificate signed by Let's Encrypt.
This certificate, linked to your domain, is created and managed automatically by Azion. The certificate is activated after DNS validation, issuance, and storage.
Here is how it happens: 
In the Domain area, enter the domain's CNAME and under Edge Certificate, select "Let's Encrypt (Beta)".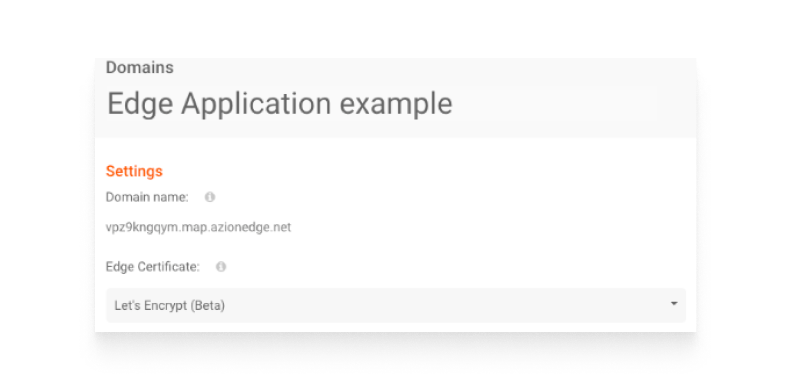 The platform automatically generates the certificate and binds it to this domain/CNAME when saving. If the user uses Azion's iDNS, the application will automatically use it for this new certificate; otherwise, the platform generates a dummy iDNS registration.

The renewal of the Let's Encrypt certificate will occur automatically every 90 days. However, you must not connect another certificate to the same domain, remove the associated domain, or remove the certificate.
That's it! After only a few minutes, your TLS certificate will be active and your site protected with a secure connection—and you'll have one less thing to worry about.
How to Generate or Use Your Own TLS Certificate at Azion's Platform 
See our documentation for instructions on creating a Let's Encrypt TLS certificate at Azion and information on using your own certificate.
Benefits
With a Let's Encrypt certificate from Azion's Platform, you get:
100% trusted and globally recognized certification entity
Free certificate generation
Easy configuration and management of certificates 
Automated control 
Support for multiple domains and subdomains
Enhanced Developer Experience
Use Cases
This solution minimizes the time and resources you spend on infrastructure-related requirements, as it lets you:
Provide free, automated, and decentralized TLS certificates for applications at the edge.
Allow users to access applications over a secure connection.
Provide secure, encrypted communications between end users and edge servers.
Explore Azion's Edge Computing Platform
Don't give threats a chance. Log in to Real-Time Manager now and try the TLS certificate integration from Let's Encrypt on our platform.
Not a customer? Create a free account and get $300 in service credits to test our solutions and unlock the infinite potential of the edge. 
Talk to one of our experts if you want to know more.
Reference