In this last text of our blog post series on bot management, we'll break down a bit more about how you can protect yourself from malicious bots with Radware Bot Manager on the Azion platform.
Earlier, we discussed the types of bots (good and bad), the different generations of bad bots and the damage they can do to your applications. Now, our goal is to talk more about the bot management solution we offer in partnership with Radware on our platform.
Azion provides different resources for the control, monitoring and implementation of security solutions, such as: native serverless security, network layer protection, web application firewall, DDoS protection, among others. We are grounded in the Zero Trust philosophy, providing the means to segment networks and applications into secure microperimeters, assuming no one is trusted by default.
We know how critical security is for our customers, especially those in e-commerce, where the identification and handling of malicious traffic is crucial for business health. For this reason, we offer cutting-edge bot mitigation on the Azion Edge Computing platform through a partnership with Radware, extending the high performance and security of our edge network with complete protection against automated attacks.
Our main goal is to ensure efficient bot management closest to end users, leveraging the security, performance and resiliency of the Azion platform, combined with a state-of-the-art bot mitigation solution in Radware, fully equipped to detect and block the most aggressive and sophisticated automated attacks.
Bot management solution
An efficient bot management solution must be able to protect your websites, apps and APIs from all kinds of automated attacks and threats. To do this, all generations and behaviors of the most sophisticated bots must be detected with the utmost precision to protect not only your digital assets, but also your genuine customers, accurately distinguishing bots from humans, and good bots from bad.
By adding Radware Bot Manager on top of the Azion platform, you gain:
Real-time bot management through an Out-of-Path (OOP) or inline-capable, purpose-built bot detection engine, coupled with contextual threat intelligence that ensures accurate classification of genuine users, good bots and bad bots.
The ability to identify the intent behind attacks and proactively stop automated attacks leveraging proprietary Intent-based Deep Behavior Analysis (IDBA) built on semi-supervised machine-learning models.
An extensive database of bot fingerprints derived from threat intelligence gathered from over 80,000 internet properties spread across 70 countries to immediately detect bot attacks and prevent large-scale attacks.
Both on-premises and in the cloud delivery models to secure all application stacks across all environments and public cloud vendors.
Anti-bot feeds allowing proactive and preventive bot management.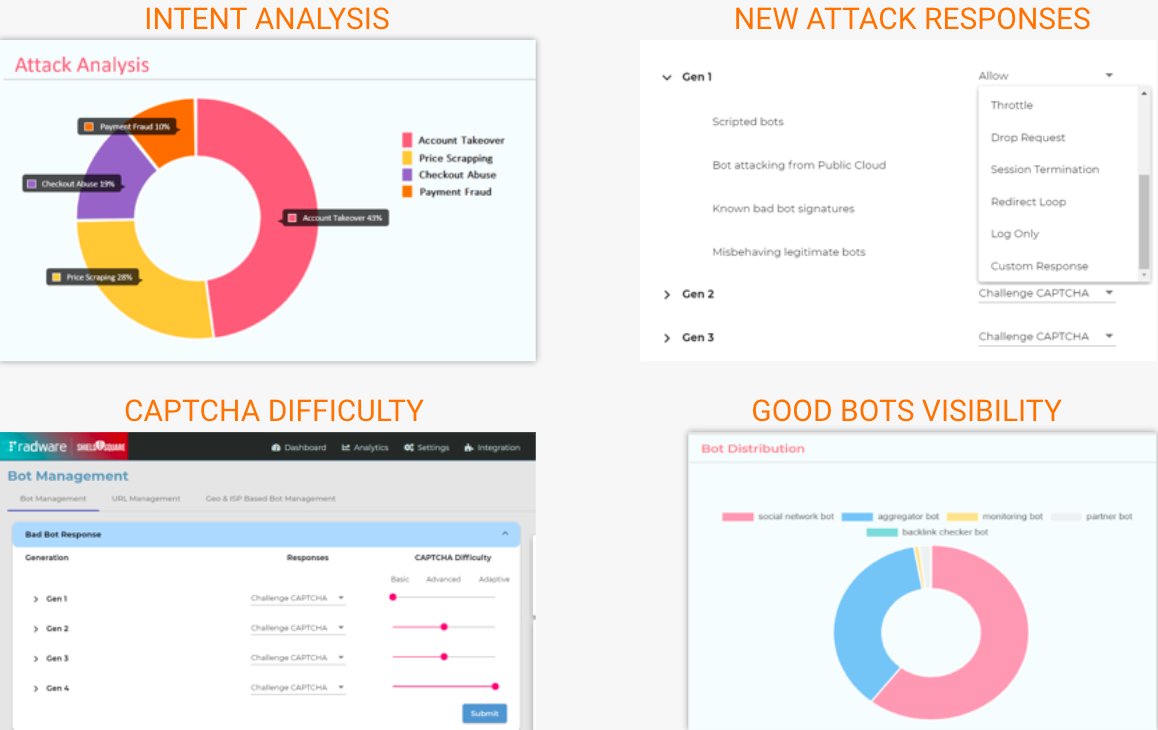 Using Radware Bot Manager on the Azion Platform
On our edge computing platform, developers can enable third-party solutions in minutes!
With the partnership between Radware and Azion, customers and partners can build applications on our secure, high performance edge computing platform and easily add Radware Bot Manager for world-class bad bot mitigation, saving time and taking advantage of the scale that a global software-defined edge network affords.
Additionally, the Azion Edge Computing platform includes both Network Layer and DDoS Protections, as well as a Web Application Firewall (WAF) module that complement Radware Bot Manager for complete protection against online attacks. With this partnership, our customers ensure their websites, applications and APIs are protected from automated bot threats and are immune to account takeover (ATO), inventory denial, DDoS, ad and payment fraud, web scraping and much more.