Financial institutions must navigate a highly unknown sea when planning their banking cybersecurity nowadays.
To cite some of the "trending attacks" in the sector, we can mention increasingly creative and organized attackers —who are even forming MaaS-type companies (Malware as a Service) or are part of well-established criminal organizations.
We can also mention phenomena that affect banking more intensely, such as the progressive migration from face-to-face to online service and the overexposure to cyberattacks that this movement brings.
Front lining this dangerous navigation is the cybersecurity professional in the financial sector, whose work is based not on wondering if there will be a new attack strategy to challenge them but on when it will happen.
In this scenario, the edge computing space is the territory of the latest Internet revolution, offering several security advantages over the traditional web.
At Azion, we are always ahead of new threats arising, which keeps us ready to prevent and mitigate them. We know cybercriminals will not sit idly by, so we put protection first when designing our edge solutions, especially for cybersecurity in banking institutions.
Particularities of Banking Cybersecurity
First, some numbers
Verizon's 2022 Data Breach Investigations Report (DBIR)[1] lists the main types of attacks faced today by financial and insurance institutions, as well as their levels of intensity. That allows us to identify some trends and define strategies: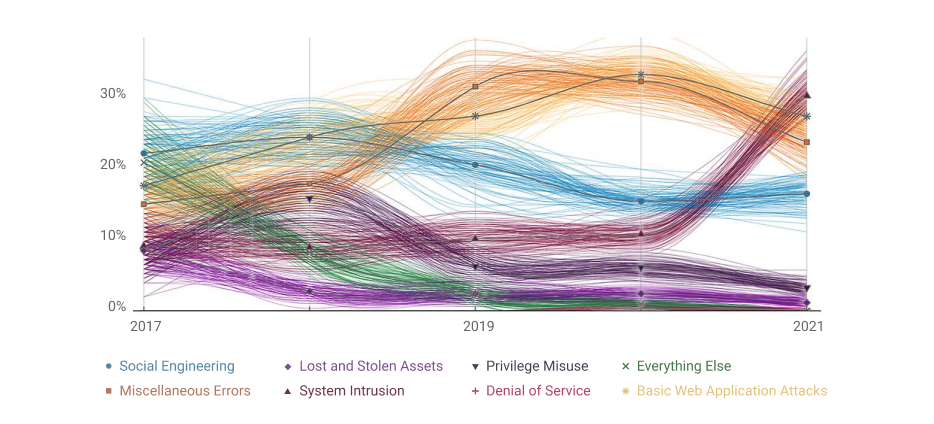 For example, it might be interesting to keep an eye on system intrusions rising sharply in 2020, which may indicate that this is one of the easiest fronts for cybercriminals to tackle.
On the other hand, penetration due to abuse of privileges has been decreasing since 2018, which may as well indicate a general strengthening of policies to control it.
We can also verify that the activity levels of social engineering have been relatively stable since 2019, from which we can deduce that this tactic remains effective.
Compliance
One of the major challenges related to compliance is the difficulty of following and keeping up to date with the developments of local and international legislation.
Thus, when it comes to cybersecurity solutions in financial institutions, we need flexible software that allows the creation of customizable rules.
One of the significant advantages of edge computing is that since it's based on a distributed network of servers placed closer to the end user, its security system can quickly adapt to local laws.
Cyberattacks on System Infrastructure
We know that the effort to automate the prevention, early interception, and elimination of attacks must be constant in the company's infrastructure and user devices.
However, outside the edge, the attacks may need to be stopped very close to the server that processes the data. So, to put it figuratively, "the enemy can get very close to home."
An edge computing platform works differently.
It has a distributed network of hundreds or even thousands of edge locations (geographical locations where the edge servers are located).
The edge location that offers the most optimal conditions for processing the data from the user's device in terms of geographic proximity and speed will be the one chosen to process it.
In addition, a customizable security perimeter can be configured around this structure with all the necessary security resources, making it easier to defend than a server of a large data center in the cloud.
Besides that, when under attack, the edge location that receives the attacker's request will mitigate it. In this case, it will also be the one that offers the most optimal conditions in terms of proximity and speed but concerning the starting point of the attack, which means the attack is neutralized as far as possible from the user's device.
The attack is mitigated at the edge, not at your origin infrastructure or near your devices.
We can represent it like this:
High Latency
In the cloud, a company's infrastructure can slow down the processing of its applications because the data is processed in data centers that may be geographically very far from the end user.
In addition, security solutions running in the cloud often negatively impact the speed of the applications they protect.
By contrast, edge computing is synonymous with ultra-low latency.
For example, if your information is produced on a computer in North America and travels to a cloud server in Argentina, it will easily take more than 100 ms to do so. Otherwise, if it's processed in an edge location in North America, the time will easily reach under 30 ms[2].
How does Azion act in cybersecurity for banking institutions?
Azion's Edge Computing Platform is a full-stack solution to bring web applications to the edge. All our functionalities are structured into four main pillars of action: Build, Deliver, Observe, and, regarding defense, Secure.
It would be beyond the scope of this article to provide a complete description of the scenarios they solve. However, it's worth discussing how these pillars address the most pressing problems in banking cybersecurity.
Azion Edge Firewall
It's a "solution of solutions" designed to power the most advanced security policies, such as zero trust, configure rules for extremely flexible compliance adaptation, and protect against threats such as the OWASP Top 10, zero-day, and more.
Let's take a look at its tools and some of the most critical scenarios they solve.
Web Application Firewall (WAF)
Azion's WAF allows you to create protection and compliance rules or use its repertoire of preconfigured rules.
For this, Azion has compliance certificates such as PCI DSS 3.2.1. (applicable throughout our edge network), SOC 2 Type 2 and SOC 3, and ISO.
Since it is a scoring-based WAF —that is, it analyzes the attack patterns syntax and creates rules that can override them— it can block even zero-day and emergent attacks. In addition, you will have the time you spend chasing false positives reduced to a minimum.
It also collects real-time data from the applications it protects and offers you great insights by displaying it in a single dashboard. You can also feed it to your SIEM or analytics software of your preference.
Network Layer Protection
This functionality sets up your security perimeter at the edge, allowing you to choose which edge locations you will apply it to.
It also protects your systems by creating network lists based on specific data such as user location, IP and ASN, Tor network exit addresses, and others.
DDoS Protection
DDoS Protection filters even the largest and most complex denial of service attacks without affecting legitimate traffic, ensuring 100% availability.
But this is not all. Our Edge Application Marketplace can take the customization and power of your security suite to an even higher level.
Azion Success Stories in Cybersecurity for the Financial Industry
We have introduced you to our "soldiers," but nothing better than seeing them in action.
Here are some success stories explained in detail about fintech companies that modernized their banking cybersecurity with Azion resources:
Do you have any specific needs or questions about banking cybersecurity? Are you thinking about implementing it at the edge? Feel free to talk to one of our Azion experts.
References
[1] Data Breach Investigations Report (DBIR) - 2022. Verizon.
[2] Delighting Customers Through Experience. Azion.