Experiencing website or application downtime during peak sales periods is every retail business' worst nightmare. In critical weeks that can determine the financial health of the business for the entire year, online stores have the potential to sell 300% more compared to other periods. To give you an idea, according to SaleCycle, more than 5 million online users made purchases on Black Friday in 2022.
While these gains can be highly advantageous for most retailers, those who don't prepare for the surge in traffic can face significant losses that extend beyond that
period. According to a HubSpot study on e-commerce checkout, 57% of users will abandon a website if the page takes more than three seconds to load, and a staggering 80% of them will never return2.
In this blog, we will discuss how to tackle the scalability challenges that may cause interruptions on your site during the most critical shopping periods of the year. Most importantly, we will guide you on how to prepare your e-commerce to boost sales quickly and efficiently, bringing more agility and revenue to your business, ultimately providing a better shopping experience for your customers.
Solving availability challenges
Edge computing platforms offer a suite of solutions that can help businesses optimize their performance and security. Unlike CDNs, which primarily cache static content, Azion enables complex computing tasks to be executed at the edge, reducing traffic on origin servers. This decrease in origin server traffic lowers the possibility of website overload and mitigates the risk of cyberattacks.
In addition, our serverless platform enables e-commerce companies to automatically scale their applications, responding swiftly and efficiently to unexpected surges in traffic. With a NoOps platform that interacts with other platforms using open standards, the cost of this operation decreases.
Scale automatically with Edge Application
If your e-commerce business faces scalability challenges during periods of increased sales, there are simple and quick-to-implement solutions, such as Azion's Edge Application. It includes modules that offer various tools to enhance the performance and availability of your pages, such as:
Edge Caching: Improve bandwidth usage and reduce latency by creating customized rules for caching static and dynamic content at the edge
Image Processor: Reduce page load times by automatically resizing, formatting, and cropping images for a variety of screen sizes and resolutions 
Load Balancer: Improve availability and reliability by balancing the traffic loads on origin servers, avoiding network congestion and server overload
Application Acceleration: Accelerate applications and APIs to improve reliability and page load times during peak demand periods
In addition, our serverless computing module, Edge Functions, facilitates companies in modernizing their applications by creating lightweight, independent functions to execute discrete pieces of business logic. With Edge Functions, e-commerce companies can enhance scalability and performance, conduct A/B tests, and seamlessly add new features to improve the user experience, resulting in increased conversions and reduced cart abandonment.
Below, you will find a performance checklist designed to assist e-commerce stores in evaluating potential obstacles and finding solutions to common problems.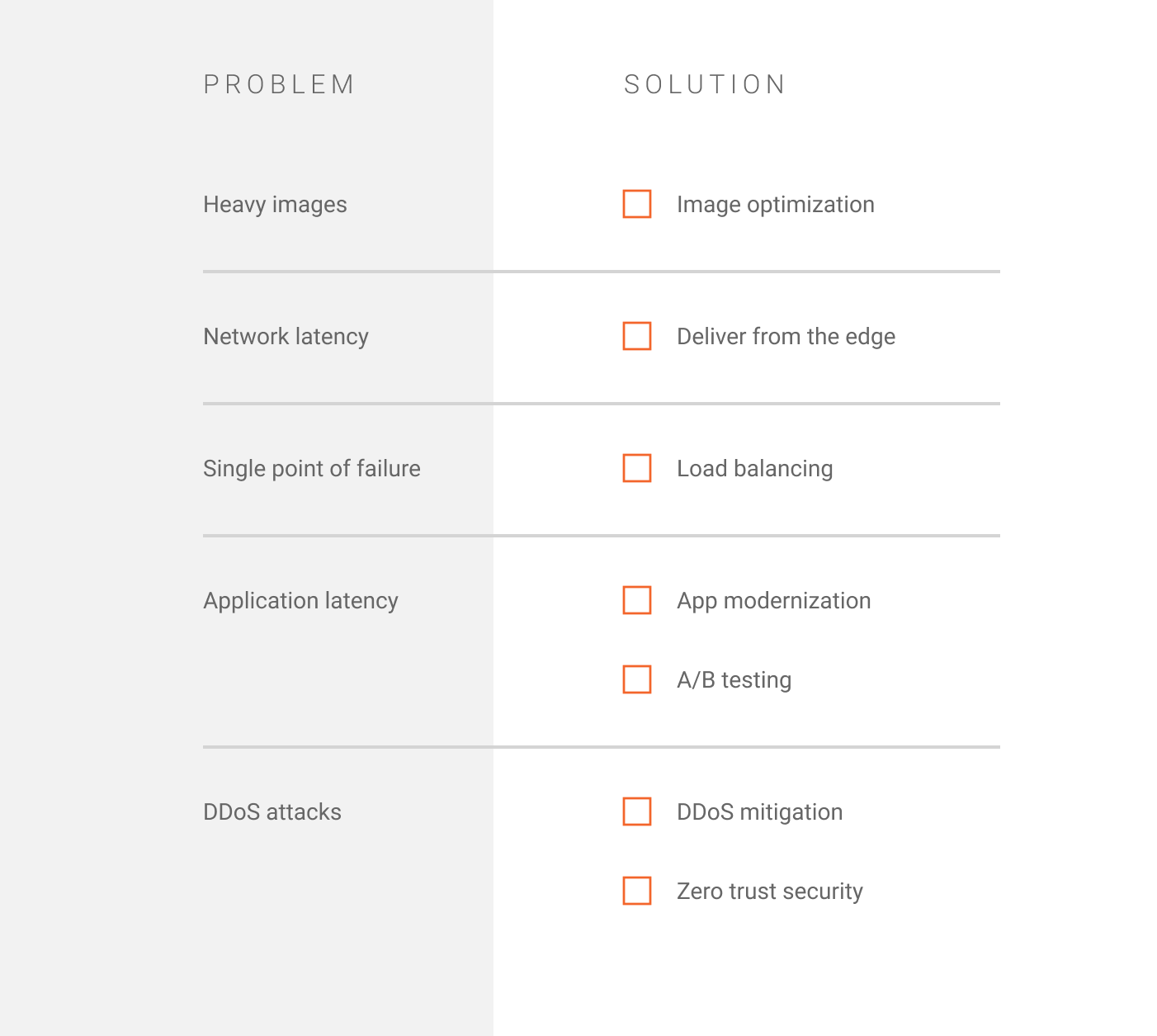 In addition to addressing availability challenges, we have also prepared content on how to enhance the security of your e-commerce platform. If you believe that your website is not fully prepared to handle the surge in sales during the upcoming peak retail dates, such as Black Friday, Cyber Monday, or Christmas, there is still time to get organized. Our solutions enable quick implementation, providing the necessary support to ensure a successful shopping experience for your customers.
To discover more about Azion's e-commerce solutions, speak with one of our experts or set up a free account to receive $300.00 in usage credits on Azion's platform.
Reference