Today, developing a streaming platform or even an application that has global availability is a crucial success factor. This is especially true when it comes to delivering scalable content with minimal latency, costs, and wasted resources. To ensure that these factors are met with excellence, nothing is better than relying on the enhancement and benefits that edge computing can provide. And that is what we will cover in this post.
Benefits of Edge Computing
The digital transformation has unquestionably accelerated business innovation, generating new markets, new solutions and also new challenges. But the unprecedented scale and complexity of the data created by connected devices has outpaced network and infrastructure resources.
Sending all the data generated to a centralized data center or the cloud causes bandwidth and latency issues. In addition, the computing power of Internet of Things (IoT) devices has increased explosively and, consequently, so has the volume of their data. Another factor to consider is 5G networks, which increase the number of connected mobile devices as they are deployed, considerably increasing the volume of data generated.
Processing and analyzing data closer to where it was created is a more efficient alternative, as latency is drastically reduced. With edge computing, data is collected and analyzed locally, close to its origin, and only then, if necessary, transmitted to a centralized location. Moving processing closer to end users results in faster and more comprehensive data analysis and better response times. So customers benefit from better, faster, and more responsive services, as well as improved experiences. Meanwhile, enterprises enjoy the flexibility of hybrid architecture by distributing a pool of resources across a large number of locations.
When it comes to content delivery services, such as video streaming, it is crucial that their platforms offer the best experience for end users. This brings several challenges to OTTs, such as:
delivering content with minimal latency to avoid slow video loading, re-buffering, and freezing during video playback;
ensuring a continuous user experience without interruptions or platform failures;
avoiding network bottlenecks during peak traffic periods, whether due to a series/movie premiere or even customer base growth; and
expanding globally while maintaining adequate cost control to not impact the user's final price.
In addition, data processing at the edge of the network decreases the turnaround time between request and response, shortening distances and significantly improving the user experience. Among the main edge computing benefits, we can highlight:
reduced latency and loading time;
bandwidth savings;
high content availability;
more effective security;
the full potential of a serverless application;
increased network capacity; and
everything at the edge, closer to the end users.
In short, a standard CDN stores content closer to end users to reduce bandwidth and optimize delivery speed. In addition, an edge computing platform enables sophisticated computing capabilities at the edge of the network and allows services to scale automatically to accommodate peak usage. This all reduces costs, eliminates wasted resources, and ensures service availability.
LatAm Opportunity for OTT Services
In context, the acronym OTT refers to the term over-the-top, which is a way to provide video content over the Internet according to the requirements of each consumer, including, for example, movies and television series.
Nowadays, the demand for OTT services and the number of subscriptions has increased significantly, especially during periods of quarantine and heightened pandemic restrictions. Due to this fact, the demand for this type of service is on the rise globally. In Latin America, this increase is no different, which creates great opportunities for the expansion of this type of business.
Considering Latin America, the chart below shows that while pay TV subscriptions have been declining slightly, the demand for video streaming services has been increasing considerably. This shows great growth opportunities for the segment that needs to invest in proper capillarity, aggregate different services and ensure outstanding performance in order to better meet the demand of its users in the region.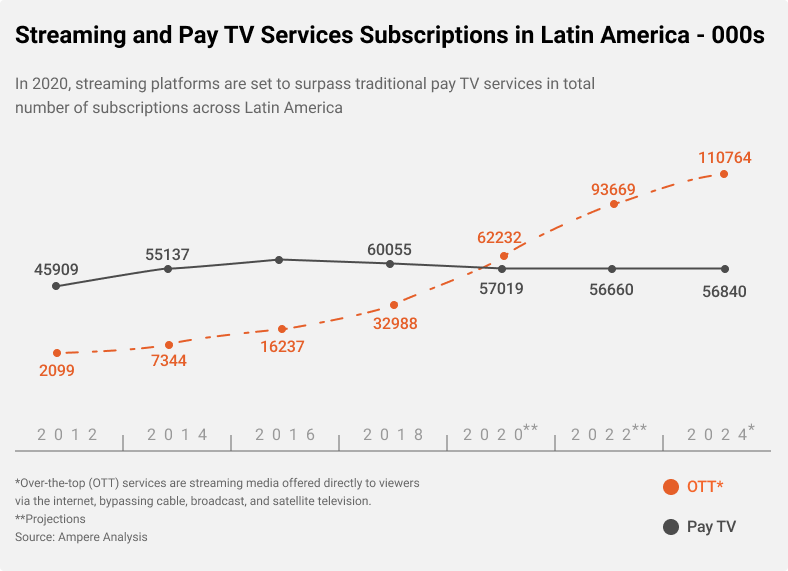 Azion's Edge Computing Platform is able to meet the demands of this exponential growth, bringing content closer to users and ensuring availability due to the vast number of edge locations around the world, in addition to improving security, lowering latency and expanding streaming providers' potential through observability.
Internet Streaming
This exponential growth in demand for video streaming services comes with a consequential increase in daily Internet usage.
According to the chart below, Latin American countries such as Brazil, Colombia, Argentina and Mexico are among the top ten in the list of countries where users between 16 and 64 years old spend more hours connected to the network.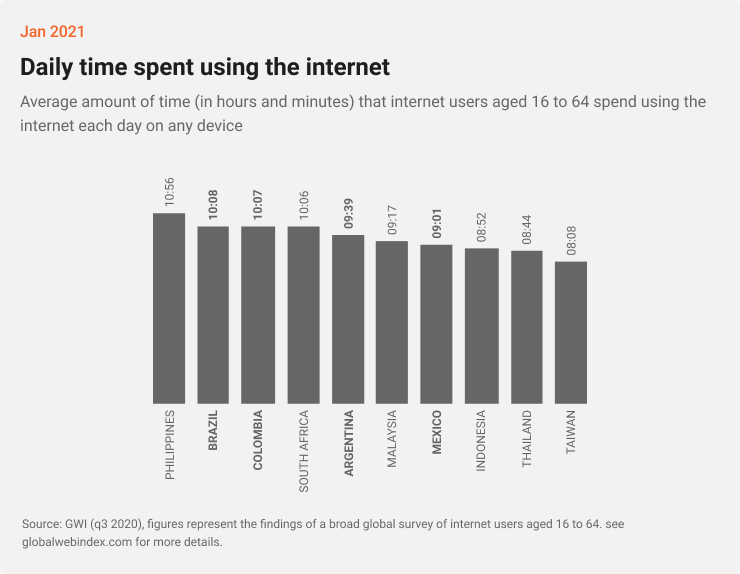 In addition, the chart below shows how much time users in the same age group spend watching streaming content over the Internet. We can see that the Latin American countries are among the highest ranked. Mexico and Argentina lead the ranking with over 90%, followed by Brazil and Colombia with over 85%.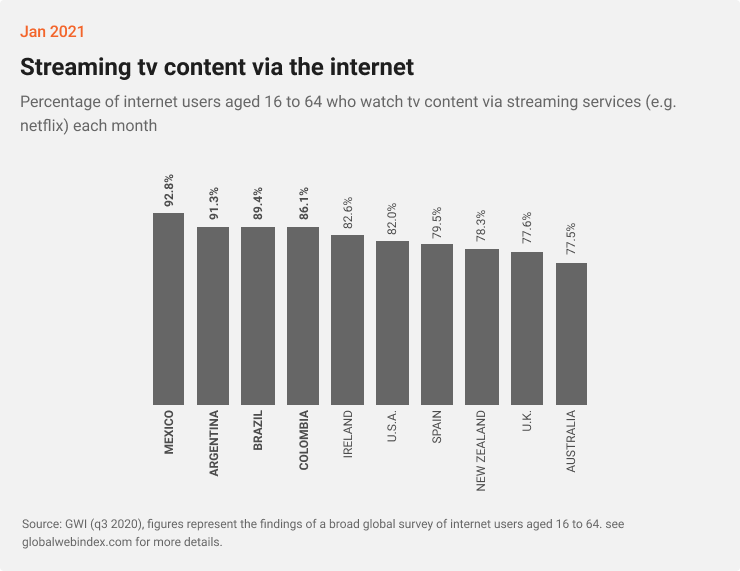 What does this all mean? Given this data, we can see a massive opportunity when it comes to content delivery services in Latin America. The use and increased demand for this type of service opens up a space for OTT growth and investment, but also increases competition and end user demands.
Therefore, the challenges of delivering quality content that can please the wide range of supporters of the service is a key factor in achieving success. And, for that, content providers must be prepared to meet the demand with an unparalleled and flawless quality service.
Azion Benefits for OTTs
OTTs that want to expand their global presence need to rely on additional services to ensure their success. Azion's Edge Computing Platform offers crucial factors that must be taken into account, such as:
user location;
performance in each region
availability and resiliency;
integrated services;
billing in local currency;
specialized local service and support;
support for SSL/TLS (authentication and security certificates);
observability;
security services;
management and control portal/platform;
the use of open standards; and
edge computing services.
Azion's highly distributed edge network provides edge locations around the world, which lead to major infrastructure and connectivity cost savings. You can also count on increased network capacity by avoiding network bottlenecks, which enables greater scalability for global content delivery, even during peak periods, due to ultra-low latency.
With Azion's Edge Application, you can build serverless applications to optimize your platform and run functions at the edge without worrying about compute resources. This enables highly reliable content delivery with 100% guaranteed network uptime backed by SLA, which provides the best quality of experience for your users.
In addition, Edge Caching accelerates content delivery through efficient caching capabilities at the edge of the network, closer to users, and is capable of monitoring and processing requests in real time, ensuring that your platform can support high volumes of requests per second without impacting performance. Learn more about all the potential that observability can bring through our products, such as Real-Time Metrics, Real-Time Events, Data Streaming and Edge Pulse.
Azion's serverless computing model allows services to automatically scale to accommodate peak usage, resulting in pay-as-you-go service, reducing upfront costs, eliminating wasted resources, and ensuring service availability.
Conclusion
Every millisecond can mean fortunes won or lost. Users are increasingly demanding and intolerant of any type of failure. Without global scalability, distributed security, high resiliency and ultra-low latency, your business could be doomed to fall behind.
Therefore, some factors should be highlighted for a successful choice, including the most geographically rich and comprehensive PoP location; services with local support options available 24/7; investment in local currency to avoid unnecessary expenses with extra conversion fees; open standards; and APIs that can integrate systems and configurations in a simplified way.
Besides ensuring content distribution and delivery on a global scale, Azion's Edge Platform offers real-time management and control, all directly at the edge of the network, at your fingertips. To learn more, talk to one of our experts here.