One of Azion's core values is innovation: the ability to develop solutions that unlock new possibilities. That's why twice a year, members from various departments join together for Hackathon: an event where participants research, develop, and pitch new solutions for Azion's products in one frantic 24-hour burst of creative problem-solving. Our most recent Hackathon challenged teams to create a solution that would help Azion's users to visualize, analyze, and understand the real-time data our platform provides. And now that the Hackathon winners have been announced and participants have recovered from their busy weekends, we'd love to share with our blog readers a little more about this incredible event!
This year's Hackathon had 66 participants from all areas of the company who created eight amazing projects in 24 hours. Before the big night, each participant received an Azion t-shirt and stickers created by our Design department and a voucher for food (or energy drinks) to keep us going through the night.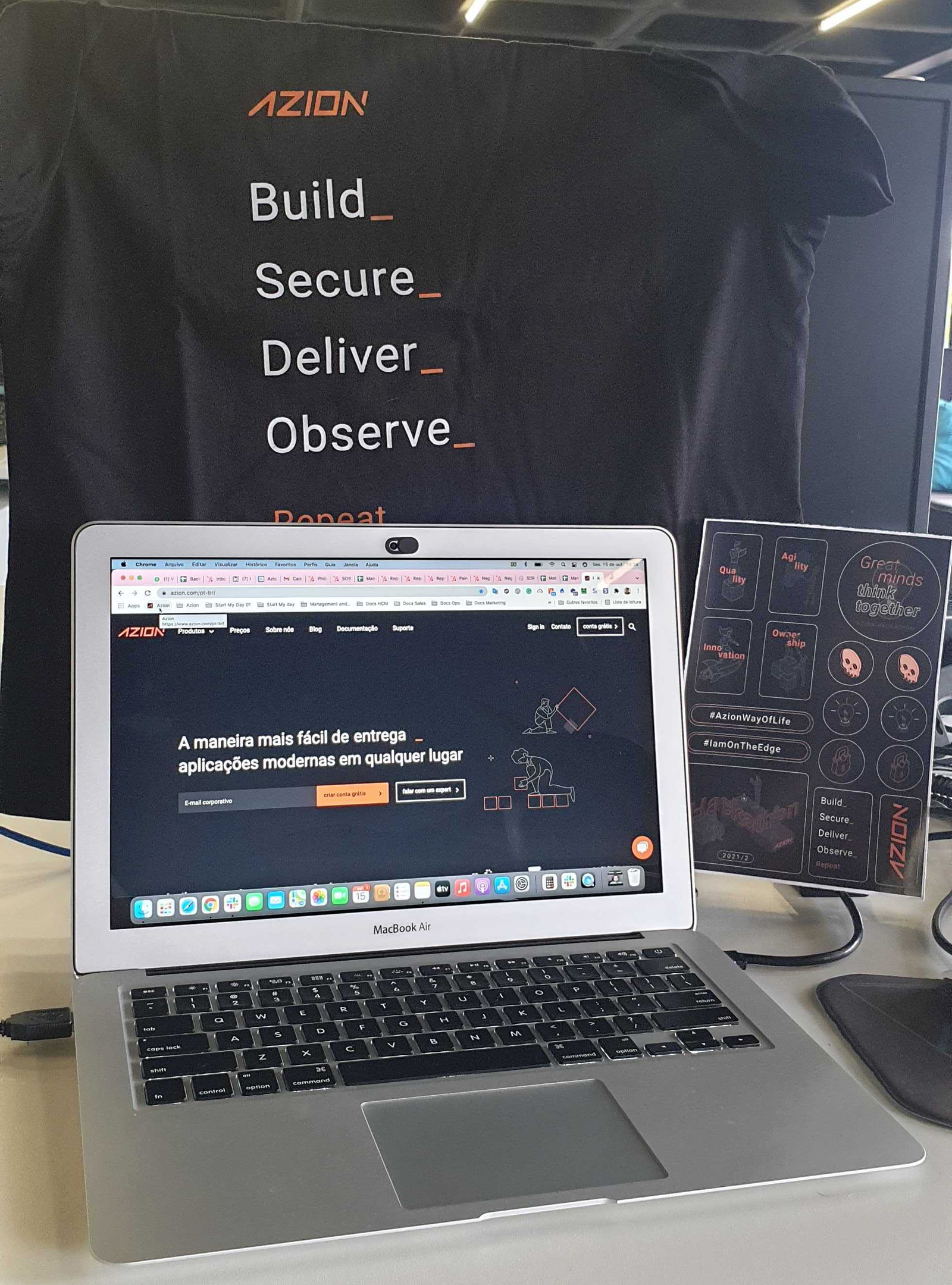 A few days before the event, all Azions are invited to a tech talk where the theme of the event is announced and some of our engineers give us a quick tutorial and background on the technology that will be used to build Hackathon solutions. This year, the tech talk showed us around Clickhouse, a high performance open-source database management system developed by Yandex that lets users generate analytical data reports in real time.
Past Hackathon participants have found the tech talks especially useful, as the event not only brings together engineers, but designers, UX researchers, sales associates, marketing personnel, copywriters, and other Azions with a wide range of skill sets needed to build a solution that is not only well-built, but easy to use, beautifully presented, and relevant to today's users and market. One of the key values that Hackathon brings to our company is close collaboration from various personnel who get to learn more about each other's role in developing and releasing new products and features.
On the big day, the teams were announced and each given a Slack channel and Google Meet room to communicate throughout the event and access to tools needed to develop their solutions, like data dictionaries & a testing environment through Metabase, sample codes in Python and Golang, and a dashboard UI through Grafana. Teams were given 24 hours in which to complete a prototype and presentation that would help customers turn data into useful knowledge to demonstrate the value of Azion's platform.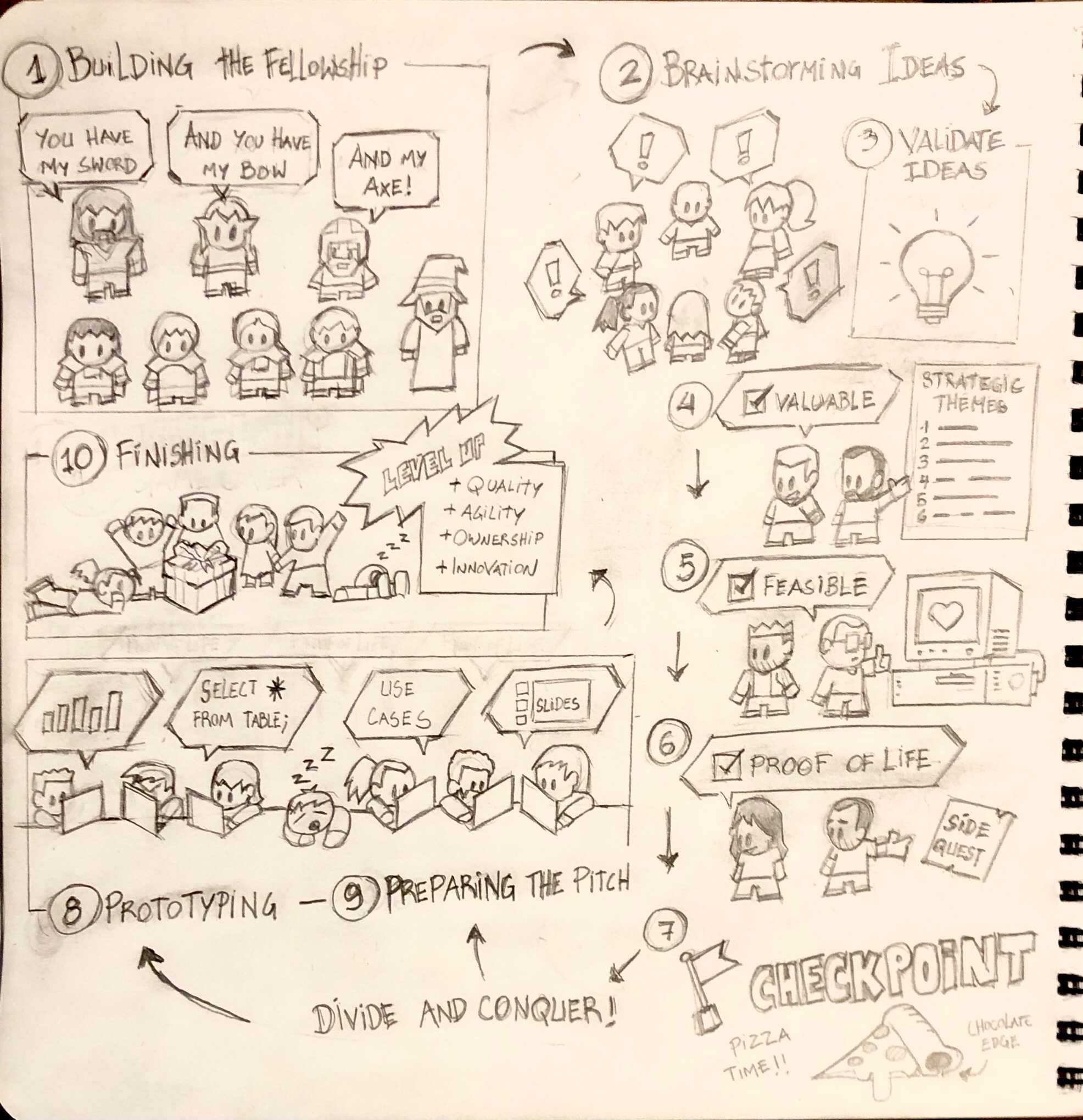 In addition to building, testing, refining, and creating a presentation pitch for their solutions, teams were also given Proof of Life challenges throughout the event to show off their team's collaboration and around-the-clock dedication. Teams get points for their participation in Proof of Life, which are used in the event of a tie. During Proof of Life challenges, teams may be asked to create memes, take photos of themselves, sing a song, or make a video. But one particular Proof of Life challenge this year asked teams to go above and beyond, by sending a WhatsApp to one of the C-levels asking if their idea is good.
The notice came at four a.m., when my team was so exhausted we could barely form coherent sentences. At this point, we just started laughing. What else can you do? Fortunately, we weren't the only ones texting one of the C-levels in the middle of the night: our CEO woke up to four separate WhatsApp messages pitching solutions to him!
The next day, each team received feedback on their ideas, refined their solutions, and finished their presentations. At the end of the event, we all gathered one last time to take a final photo.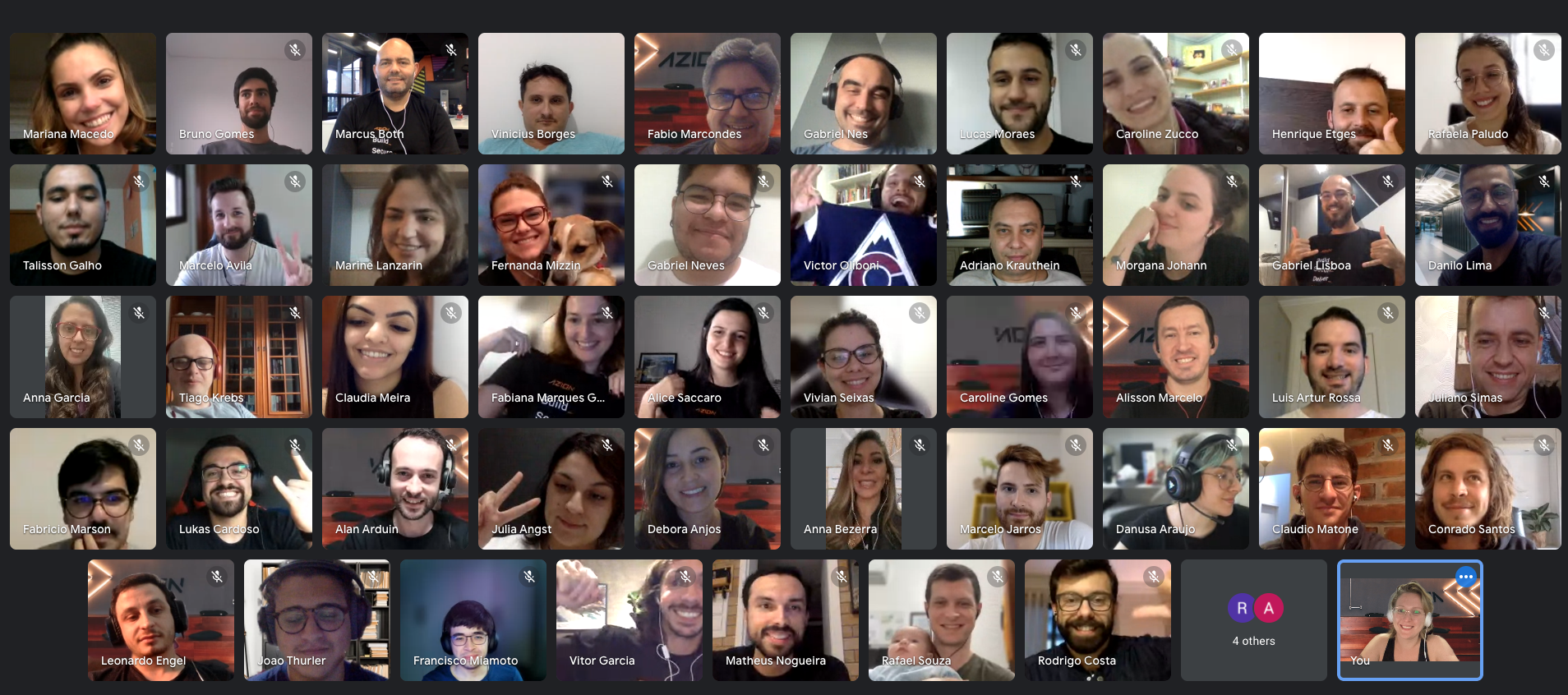 On Monday, the teams presented their ideas via video conference in a company-wide meeting. Solutions ranged from automatic alert systems for application monitoring to vibrant new dashboards with real-time graphs and tables that let users better visualize usage trends and drill down into anomalies. Evaluation of the teams was made by our company's C-levels based on the following criteria:
Idea + wow factor: the solution's originality, relevance, and differentials
Viability: the simplicity and feasibility for building and releasing the solution
Refinement: the presentation and prototype pitch and value proposition
Readiness: whether the solution can be made available as-is
Relevance: the product meets the guidelines in the Hackathon proposal
Collaboration: the extent to which each group member contributed to the solution's presentation
The winning solution provided an interactive dashboard for Azion's Real-Time Manager with a map of every Azion Edge Node. Clients can hover over to view a popup with data about their contracted solutions on the edge location, such as the number of blocked attacks, the amount of traffic, and the traffic offloaded from the client's origin servers. Our judges were impressed by not only the value of the idea, but the beautiful presentation and the team's collaboration.
Ultimately, Hackathon is an amazing experience for everyone involved. Not only do participants get an opportunity to work with people from different teams and learn more about our products, they get to build and test solutions that help to improve Azion's products and deliver more value to our users. So keep an eye out for improvements to our observability solutions as we continue to explore, test, and refine what we learned this crazy weekend. And if you're looking for a fun, dynamic, and high-energy work environment, check out our job offerings and help us build the future of technology!