Here at Azion, we're dedicated to simplifying the development process with a platform that expands the possibilities of building at the edge. To further that goal, we've appointed Alessandro Cauduro as our inaugural Chief Developer Experience Officer (CDXO). Cauduro will lead the developer experience strategy at Azion and leverage his vast experience to accelerate our efforts in building and supporting our developer community.
Cauduro brings over two decades of technology and leadership experience to Azion. Prior to his new role, he was co-founder of W3Haus, a creative digital agency, as well as Huia, a leading technical innovation studio that created both the live commerce platform Alive.Haus and the real-time content studio Brooke. All of these companies, which are part of the Haus digital marketing ecosystem, were acquired in 2020. He has a Bachelor of Computer Science from UFRGS and attended the Singularity U Executive Program.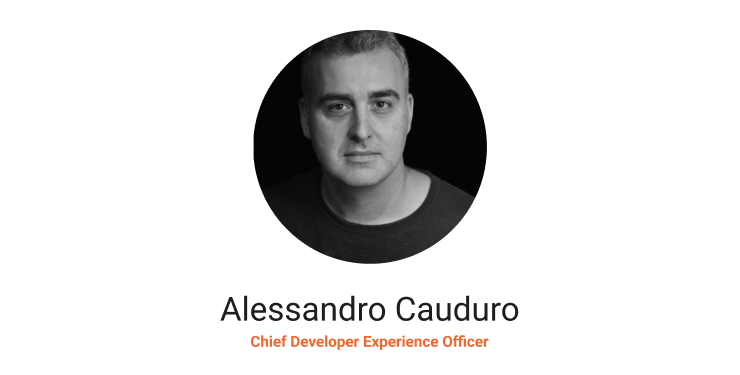 "The commitment to our developer community builds on our ongoing work to disrupt the way developers build and run modern applications. As a leader of the initiative, Alessandro will help Azion make its platform even more developer-friendly as we continue to grow and evolve," said Rafael Umann, CEO of Azion. "Our goal is to accelerate our efforts to provide a great experience while enabling our product team to focus on making it as easy as possible to build, secure, deliver, and observe applications on our platform."
As a previous Azion client, Cauduro brings a strong understanding of developers' viewpoint and needs, as well as a commitment to improve their experience through innovative company initiatives. In his role, he will be responsible for developer advocacy, experience, and community management, and will lead and manage Azion's platform strategy.
"Developer experience is more than just a company focus area; it is a company mindset, and I plan to bring a developer focus into C-Level discussions at the organization," said Cauduro. "As the market and the developer macro trends point to the edge as the future, providing a fantastic developer experience is the best way for a company to stand out and prime itself for growth. I look forward to working with the community to make their lives easier while achieving their goals with the platform."
Cauduro's appointment follows the formal launch of the Azion Marketplace, which allows developers to easily integrate third-party solutions and tools — including a robust selection of open-source options — into the apps they build on the Azion platform.
Are you interested in joining Azion's team of developers and other technology professionals to build the future of technology? Visit our career page to learn about our available positions!