There's an iconic scene from Back to the Future 2 where Dr. Emmett "Doc" Brown tells Marty that he discovered that a parallel universe was created when Biff Tannen stole the 1950-2000 sports almanac that he used to create a successful future for himself.
Doc explains to Marty that they must return to the exact point where that parallel universe was created to repair the rift. Knowing precisely when this event took place is crucial to Marty's very existence, as preventing it would also prevent Biff from marrying his mother.
In the business world, having the right information at the right time about applications and customers can also be decisive for their existence.
And this is especially important today, when companies are facing a global slowdown in trade[1], changes to the workplace, and digital acceleration, a product of the pandemic and the war in Ukraine[2].
Tools to Get a Better User Experience
With the exponential increase in mobile devices connected to the internet, which is estimated to double between 2022 and 2029[3], the volume of data is exploding.
This has required companies to look for tools that allow them to process their logs in real time to understand them and improve aspects such as:
Performance: Businesses with faster websites are more competitive and have better conversion rates[4].
Security: Bot attacks and other cyber threats lead retailers to lose from 6% to 39% of their revenue[5].
User experience: The State of Consumer Behavior 2021[6] report predicted that as customers tire of digital shopping, brand loyalty and shopping experience will be crucial to maintaining physical stores.
Troubleshooting: According to Gartner[7], 98% of companies said the cost of IT downtime ranges from $10,000 to $540,000 per hour, so the ability to identify problems in real-time, understand where the problem lies, and who or what is affected is crucial.
Data Streaming is one of the best tools available today, as it allows you to obtain powerful insights about your users and your applications, giving more intelligence to your business.
What Is Data Streaming All About?
Basically, data streaming is an observability solution that allows companies to obtain deep data linked to real-time analytical systems, which organizations can use to obtain information on the performance and security of their applications.
A use case that shows us that Data Streaming is critical is that of e-commerce, since it allows us to obtain powerful insights that can be used to optimize performance or analyze a website or application's customers in real time. This tool allows you to identify slow or broken code, application caching issues, or even issues with customers' carts or checkout processes.
In other words, we could say that Data Streaming is like a pair of glasses that allows you to see into your applications better.
How Does It Work?
Data Streaming works as follows:
Edge computing platforms collect data from different applications and services running on the platform.
The platform will stream (forward) rich information to SIEMs and other analytic solutions in real-time, using connectors (e.g. Elastic, Kafka, S3).
From this data, information can be visualized, alerts can be set up, and applications can be updated in real-time via APIs and orchestration—and these are just some of the possibilities.
How Can I Optimize My Observability With Data Streaming?
As we know, businesses today face various challenges, one of which is gaining the best insights on how customers relate to their services and products, so businesses can make sound forecasts and product investments.
Similarly, to be successful, companies must strive to provide superior digital experiences for their customers, so finding agile solutions capable of observing the status, errors, and performance of their websites, as well as their applications, is essential.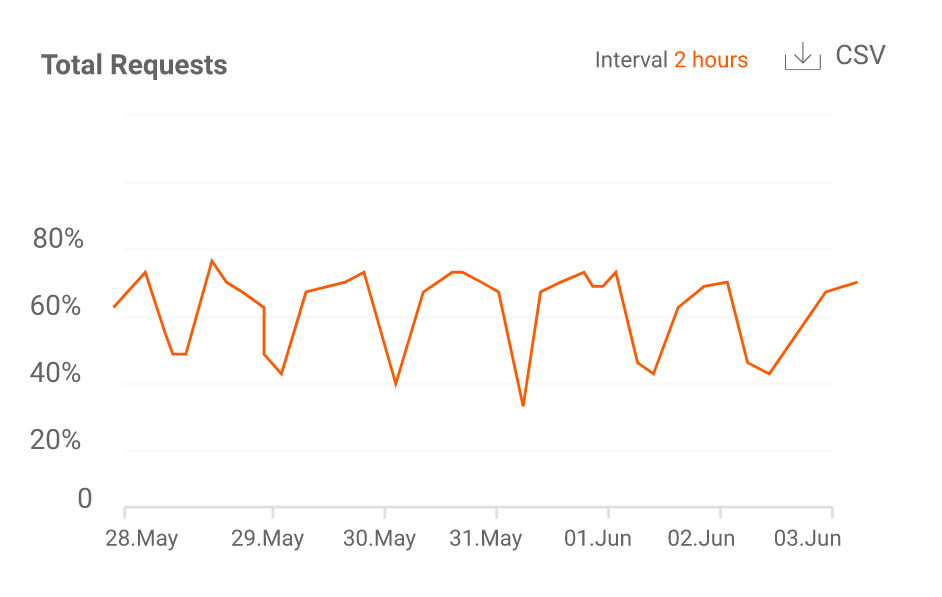 Obtaining this gives them the ability to make better business decisions. And this is where Data Streaming comes into play, because it provides benefits such as:
obtaining consumer insights;
processing large amounts of data continuously;
detecting security incidents early and providing full context of the event;
transmitting data with a latency of seconds or milliseconds;
handling large loads without data loss;
displaying the requests made to their applications;
logging events.
With a suitable provider, you'll be able to implement and manage data streaming in your organization and obtain the aforementioned benefits. Azion's Data Streaming is an easy-to-configure and flexible solution that gives you powerful insights and has countless benefits.
Practical Benefits of Azion Data Streaming
Getninjas, an international service contracting platform selected by Forbes as one of the most promising companies in Brazil, obtained the following benefits by using Azion Data Streaming.
better website performance, including an increase of up to 80% in the hit rate of optimized domains through log tracking;
collecting more than 3TB of data in less than a year, which was used to increase its SEO and put GetNinjas in the top search results
gaining greater security insights; and
improving their user experience using event data collected from A/B testing.
Do you want to know more about this solution? Talk to one of our experts.
Sources:
[1]AXIS
[2]Forbes
[3]Statista
[4]Nitropack
[6]State of Customer Behaviour
[7]Gartner