It's no news that Azion Edge Computing Platform supports ciphers, the cryptographic algorithms that protect data during the handshake on the TLS connection when the applications you run on the edge receive or issue requests.
But until then, the use of these ciphers was something negotiated between Azion and the customer and executed on our back end. In the quest to generate a more agile experience for our customers and to prevent security from being a barrier to building and managing applications, we developed the Cipher Suites feature, which offers the freedom to select and activate sets of cipher suites for each of your applications in a few clicks in our graphical interface, the Real-Time Manager (RTM).
How Do We Create the Cipher Suites Sets?
The market offers hundreds, even thousands of cipher suites, and we know they have very different degrees of strength. 
Selecting the most suitable ones for each application can be an arduous task, but at Azion we have already done it for you. 
In our RTM, you can choose from several pre-determined groups that were created based on the following criteria:
Security
We don't offer cipher suites that can be qualified as low security, we only offer the highest level ones. 
In addition, our platform complies with the standards set by several of the most reputable security certifications in the market, such as PCI DSS v4.0, SOC 2 Type 2, SOC 3, and ISO. 
Compatibility
You must choose cipher suites that are compatible with the TLS versions used by the customer. Also, it's important to consider that some browsers and operating systems don't support certain protocols and algorithms.
At Azion, we support TLS protocol versions 1.2 and 1.3, the only ones currently considered secure for network connections.
Performance
Choosing the optimal cipher suite for your application enables better performance for your end users. 
Therefore, we select cipher suites that offer both the best security and the best performance.
How to Choose Cipher Suites for Your Applications at the Azion Edge Computing Platform?
Cipher Suites is part of our application creation and management tool, Edge Application, and consists of a simple drop-down menu where you can enable and select cipher suites groups for each of the applications running at the edge.
If, due to the specific characteristics of one of your applications, you need to use cipher suites not listed in Azion's sets, you can also request the creation of a custom set according to your needs.
Enabling them in the RTM is very simple. Just follow the steps below:
Open the product menu (the icon with three horizontal lines on the top left side of the screen).
Select Edge Applications.
Select an existing edge application or create a new one.
On the edge application page, select the desired set of cipher suites from the Supported Ciphers List drop-down menu.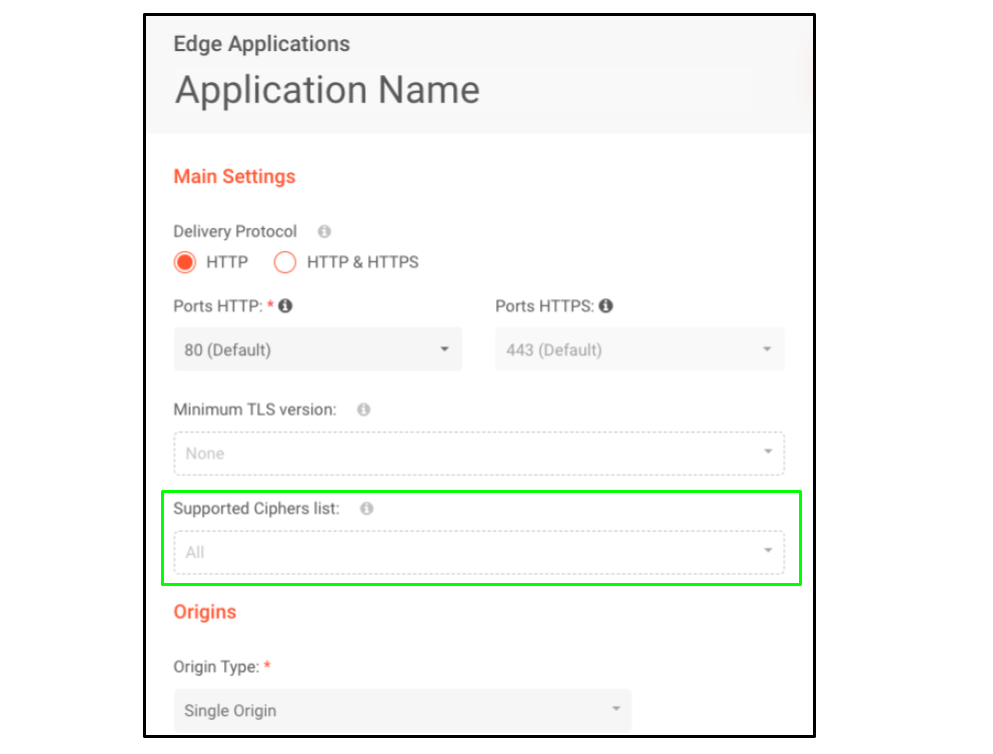 If you want to see our lists of cipher suites, visit our documentation.
Conclusion
Using Cipher Suites means:
Working with the most robust cipher suites on the market and best suited for each application.
Not having to worry about finding them outside the platform: all TLS protection for your applications managed in a single place.
Being able to add the security offered by Azion's Edge Computing Platform protection stack, specially designed for the edge. 
Being able to use them at no additional cost.
Talk to one of our experts and start enjoying this service now.
By the way, if you want a TLS certificate quickly, with no bureaucracy and for free, you can generate, renew and manage Let's Encrypt certificates on Azion's platform. For more details, check out our blog post Now It's Much Easier to Get a Let's Encrypt TLS Certificate at Azion.