Today, Azion is pleased to announce the Early Access release of Azion Marketplace, a new feature of our Edge Computing platform that lets developers easily find, deploy, and manage third-party applications.
Find and install new functions in minutes
At Azion, we are always striving to make it easier to build and run applications at the edge. In today's fast-paced digital environment, this includes the ability to quickly integrate new features and functionality. Users have increasingly high expectations for performance and expect the regular release of new features. In addition, as cybercrime becomes more sophisticated and prevalent, creating a robust security strategy is crucial to securing data and meeting compliance requirements.
However, building custom solutions is a slow and laborious process, and new functions must be carefully tested to eliminate bugs and weed out security vulnerabilities. For reusable functions, such as authorization and paywall tokens, or sophisticated applications like bot management, it often makes more sense to use a time-tested out-of-the-box solution than write one from scratch.
With Azion Marketplace, integrating these solutions has never been easier, providing a new way for our customers to accelerate their go-to-market strategy and add functionality at the edge. All solutions from Independent Software Vendors undergo thorough vetting by our team to ensure they meet our security and performance standards, so you can confidently choose from quality products.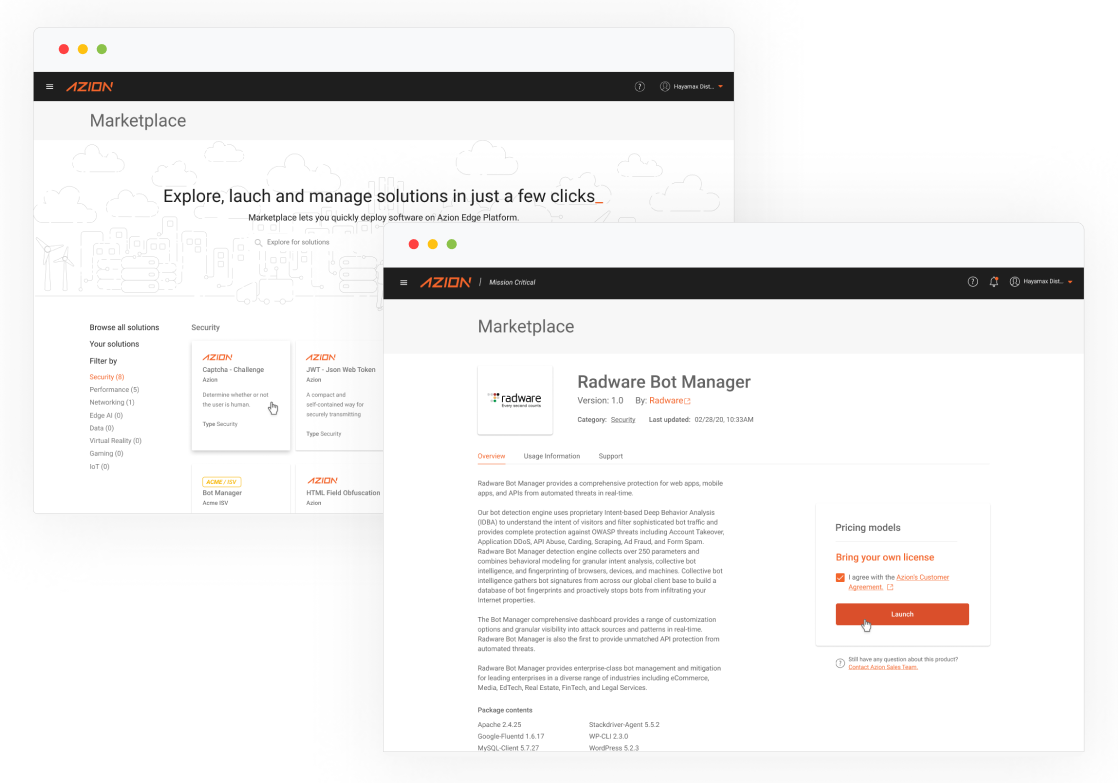 How it works
Using the Real-Time Manager, customers can access Azion Marketplace, where they can search for solutions from Azion or third-party vendors. In a few clicks, you can find and launch a product in Edge Firewall or Edge Application. Once a product has been launched, it will be immediately available in your Azion account, and you can start using it right away. Azion charges no additional fees for using Azion Marketplace products. Users pay only for resources consumed, and third-party software licenses are purchased and managed directly through the vendor. At this stage, all Azion Marketplace solutions are available as either free or bring-your-own-license products.
Distribute custom solutions built on Azion's platform
In addition to adding functionality to their edge applications, Azion Marketplace enables users to generate new revenue streams by distributing products built on our Edge Computing platform. With Edge Functions, Azion users can create reusable, event-driven functions and distribute them to users across our platform, which includes the largest retailers in Latin America and over 40,000 e-commerce customers. Requirements and procedures for becoming an Independent Software Vendor can be found in our documentation.
Features
With Azion Marketplace, customers can:
Easily find and deploy Azion products and third-party solutions
Choose from third-party products vetted by Azion to ensure quality standards
Accelerate your go-to-market strategy and run workloads at the edge
Enable new revenue streams by distributing products built on the Azion Edge Computing Platform
Early Access invitation
Are you interested in trying out Azion Marketplace? Sign up for Early Access.
As an Early Access participant, you can help the feature's advancement by giving us your feedback. Your opinion is essential to improve its already existing possibilities before we make the feature available to all Azion customers. At this time, we recommend using Azion Marketplace products for test environments.
To get started, access the Azion Marketplace and sign up to request Early Access through the Real Time Manager.
Request Early Access